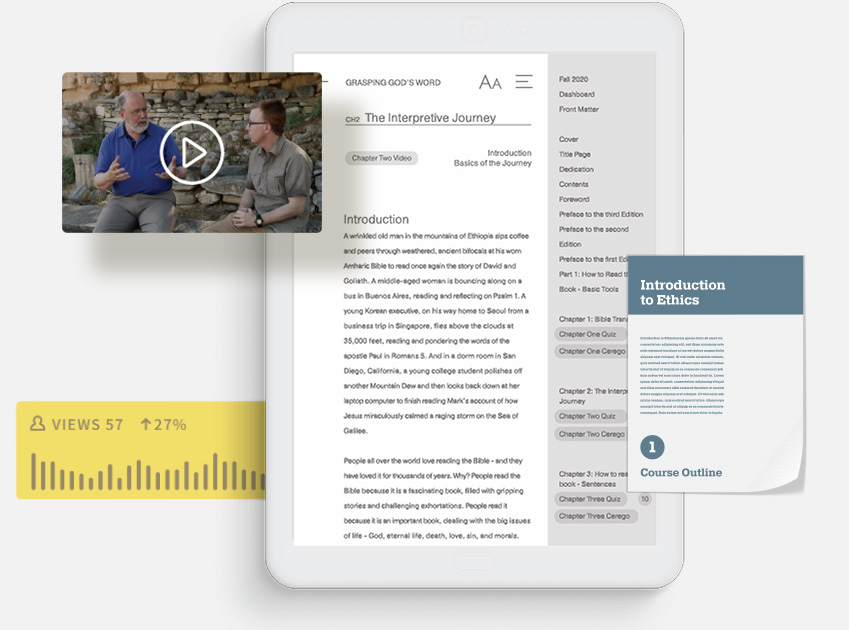 Expand
Description
2019 Outreach Magazine Resource of the Year: Apologetics
2018 The Gospel Coalition Book Award: Evangelism & Apologetics
Amid the pluralism and secularism of Western culture, Christian apologetics has experienced a renewal of interest. In Apologetics at the Cross, Joshua D. Chatraw and Mark D. Allen provide an introduction to the field, acquainting students and lay learners with the rich history, biblical foundation, and ongoing relevance of apologetics.
Unique in its approach, Apologetics at the Cross presents the biblical and historical foundations for apologetics, explores various contemporary methods for approaching apologetics, and gives practical guidance in "how to" chapters that feature many real-life illustrations. With their respectful approach, which pays special attention to the attitude and posture of the apologist, Chatraw and Allen equip Christians to engage skeptics with the heart as well as the mind.
Conversational in tone and balanced in approach, Apologetics at the Cross provides a readable introduction to the field of apologetics. Readers will be informed and equipped for engaging a wide range of contemporary challenges with the best in Christian thought.
About the Authors
Joshua Chatraw (PhD, Southeastern Baptist Theological Seminary) serves as the director for New City Fellows and the Resident Theologian at Holy Trinity Anglican Church in Raleigh, North Carolina. His books include Apologetics at the Cross, Cultural Engagement, Truth in a Culture of Doubt, and Truth Matters. He is a fellow with the Center for Pastor Theologians and has served in both pastoral and academic posts during his ministry.
Mark D. Allen (Ph.D., University of Notre Dame, D.Min. Gordon-Conwell Theological Seminary) serves as the Chair of Liberty University's Biblical and Theological Studies Department and the Director of the Greek Program. His Ph.D. from Notre Dame focused on Christianity and Judaism in antiquity and his dissertation dealt with Old Testament critical scholarship. Mark brings twenty years of church planting and pastoral experience.
Endorsements
This is a welcome addition to the library of books on apologetics. It is also a rare book: most defenses of the faith do not make the gospel their lodestar and template. This one breaks new ground in letting the reason for the Christian hope--Jesus crucified and risen--guide and govern the forms and methods of faith's defense. Apologetics at the Cross incorporates biblical materials, the history of apologetics, and theology to make a cumulative case for the church as a socially embodied cruciform argument whose members are alert to how different people may need to be shown various different paths (i.e., kinds of arguments) that lead to, and into, the reality of the gospel. This is a book brim full of apologetic wisdom--most notably, the wisdom of the cross. -- Kevin J. Vanhoozer, Research Professor of Systematic Theology, Trinity Evangelical Divinity School
In our culture, the practice of apologetics has moved from being a 'boutique' topic for specialists to being a requirement for even having a conversation with one's neighbor. Joshua Chatraw and Mark Allen have produced the most comprehensive, accessible, and up-to-date manual on Christian apologetics that I know of. Despite how full its treatment of the subject, it is eminently readable. The authors present all the various approaches to apologetics respectfully, proposing their own pathway that incorporates a large range of insights from many disciplines and thinkers. Highly recommended. -- Timothy Keller, pastor emeritus, the Redeemer Presbyterian Churches of New York City
One of the best books about apologetics I've read. It offers a compelling vision for the place of apologetics in the life of individual believers and the church, drawing on the rich wisdom of the Christian past and the best recent approaches to the apologetic task. This book will both enrich the lives of Christians and help them defend and commend their faith in today's complex world. -- Alister E. McGrath, professor of science and religion, University of Oxford
Just when you think this book is the comprehensive apologetics textbook you've been looking for--covering Scripture, history, philosophy, and culture--you realize it's also something more: a creative, original proposal for an 'inside-out' apologetic that is precisely what we need in our secular age. If you're skittish about 'apologetics,' like I am, this book will show you another way. -- James K. A. Smith, professor of philosophy, Calvin College, and author of You Are What You Love
Imagine a book on apologetics that not only deals with content, but discusses tone and heart, is gentle and wise, and overviews method and approach with care and balance. That is Apologetics at the Cross. Not only does it walk through the common questions; it orients one to the different ways people think and relate to those issues. Here is a book that does apologetics with depth, not just of the mind, but of the soul. -- Darrell Bock, Center for Christian Leadership and Cultural Engagement, Dallas Theological Seminary
Drawing on key biblical themes and the best of the Christian tradition, Josh Chatraw and Mark Allen have provided readers with a much-needed work for those looking to think more deeply about the Christian faith and the importance of Christian apologetics for our post-Christian world. This creatively written volume offers an unapologetic commitment to the gospel message, skillful analysis of a wide-ranging survey of the field of apologetics, and a helpful introduction to contextualization through the lens of the cross. Apologetics at the Cross not only informs and educates, but also points toward authentic witness and faithful living. Students, pastors, and church leaders will be strengthened by this outstanding resource, which serves as a trusted compass that people will not only read, but to which they will likely turn again and again for guidance. Highly recommended! -- David S.Dockery, president, Trinity International University/Trinity Evangelical Divinity School
Sign in to access these resources
Instructor Resources are available for preview only until you sign in to your Zondervan Academic instructor account!
Sign In
or
Sign Up
for a free account. Approved instructors will get full access to these resources and more.
Sign in to access these resources
Student Resources are available for preview only until you sign in to your Zondervan Academic student account!
Sign In
or
Sign Up
for a free account. Students get full access to these resources and more.
General

Introduction - An Invitation to Apologetics at the Cross

Chapter 1 - Apologetics in the Bible—Part 1

Chapter 2 - Apologetics in the Bible—Part 2

Chapter 3 - Apologetics within the Great Tradition—Part 1

Chapter 4 - Apologetics within the Great Tradition—Part 2

Chapter 5 - Making Sense of the Methods

Chapter 6 - Taking People to the Cross through Word and Deed

Chapter 7 - Cruciform Humility before God and Others

Chapter 8 - Appealing to the Whole Person for the Sake of the Gospel

Chapter 9 - Contextualization through the Lens of the Cross

Chapter 10 - Preparing to Engage (not Spin) in Late Modernism from the Inside Out

Chapter 11 - Engaging in Late Modernism

Chapter 12 - Dealing with Defeaters

Chapter 13 - Making a Case
Apologetics at the Cross
Instructors: Dr. Joshua D. Chatraw, Dr. Mark D. Allen
This course will give you an accessible and complete introduction to the field of apologetics. You'll learn the rich history, the biblical foundations, and the ongoing practical relevance of apologetics for your own life.
Course Details
14 Units
7 hours of video
Self-paced
Beginner
View Course
For Instructors and School Administrators
Enhance your school's traditional and online education programs by easily integrating online courses developed from the scholars and textbooks you trust.
Learn more
.
For Students
Pursue a deeper knowledge of God through self-paced college- and seminary-level online courses in Old and New Testament studies, theology, biblical Greek, and more.
Browse courses.
Expand
Product Details

Page Count:

336

Format:

Hardcover, Printed Caseside

ISBN:

9780310524687

Release:

May 15, 2018
Other Popular Titles to Consider
Experience Enhanced Editions
For Instructors
It takes less than 10 minutes to request and explore the FREE trial of this book in Enhanced Editions. Get started now.
Start Free Trial
For Students
Discover more about the content and features in Enhanced Editions that help you learn faster and remember longer.
Access Enhanced Edition