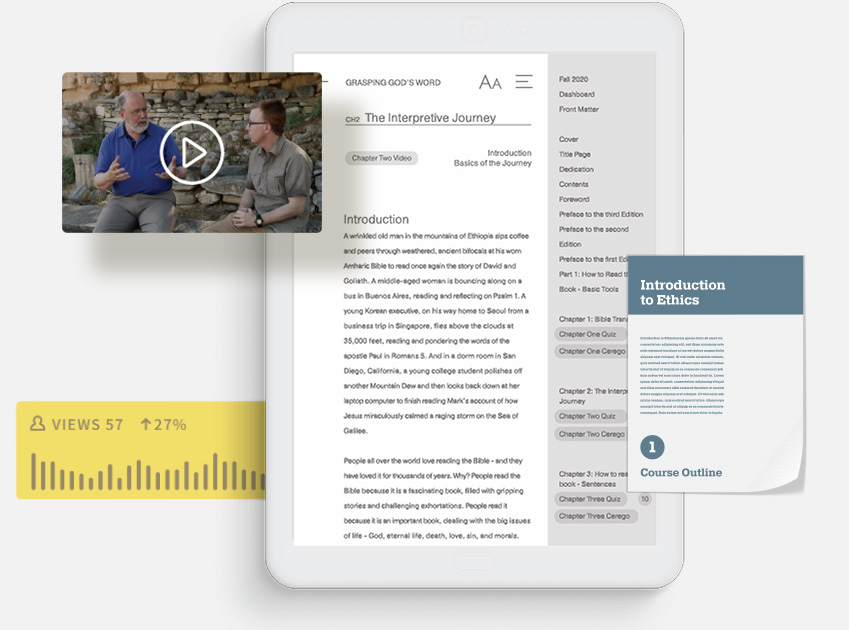 Expand
Preview
Description
The Christian church has a long tradition of systematic theology, that is, of studying biblical teaching on centrally important doctrines such as the Word of God, redemption, and Jesus Christ. Wayne Grudem's bestselling Systematic Theology has several distinctive features:
A strong emphasis on the scriptural basis for each doctrine
Clear writing, with technical terms kept to a minimum
A contemporary approach, treating subjects of special interest to the church today
A friendly tone, appealing to the emotions and the spirit as well as the intellect
Frequent application to life
Resources for worship within each chapter
Bibliographies in each chapter that cross-reference subjects to a wide range of other systematic theologies.
About the Author
Wayne Grudem is research professor of Theology and Biblical Studies at Phoenix Seminary in Phoenix, Arizona. He holds degrees from Harvard (AB), Westminster Theological Seminary (MDiv, DD), and Cambridge (PhD). He is the author of more than a dozen books including the bestselling Systematic Theology.
Table of Contents
Introduction to Systematic Theology

Part 1: The Doctrine of the Word of God

Part 2: The Doctrine of God

Part 3: The Doctrine of Humanity

Part 4: The Doctrines of Christ and the Holy Spirit

Part 5: The Doctrine of the Application of Redemption

Part 6: The Doctrine of the Church

Part 7: The Doctrine of the Future

Appendix 1: Historic Confessions of Faith

Appendix 2: Scripture Memory Passages from the NIV and NASB

Appendix 3: Contemporary Worship Songs Classified by Chapter

Appendix 4: Annotated Bibliography of Evangelical Systematic Theologies

Appendix 5: Master List of Systematic Theologies Indexed at the End of Each Chapter

Appendix 6: The Monogenes controversy: "Only" or "Only Begotten"?

Glossary

Endorsements
'"As a theology professor at Biola University where our students have to take three semesters of Christian doctrine I feel like I co-teach all my classes with Wayne Grudem. His Systematic Theology provides the core theology content for all my classes and most of the other undergraduate theology courses at the University. It excels in its clarity, readability, and biblically based approach that seeks to get theology into real life. Systematic Theology consistently accomplishes its obvious goal throughout---to lead the reader to greater knowledge and worship of the God of the Bible.' Talbot School of Theology of Biola University -- K. Erik Thoennes
"Our college has chosen this work as a standard textbook for all theology students over the last 10 years. No other theology text combines readability, range of views, and the ever-essential quality of reinforcing our systematic theologies with scripture… Each chapter closes with application questions, special terms, additional bibliography, a cross-section of other systematic texts with page numbers, a passage for memory, and a hymn…all centered on the theology of that chapter. A treasure chest of theological resource and relevance---and that's only the end of each chapter!" Toccoa Falls College -- W. Brian Shelton
Sign in to access these resources
Instructor Resources are available for preview only until you sign in to your Zondervan Academic instructor account!
Sign In
or
Sign Up
for a free account. Approved instructors will get full access to these resources and more.
Sign in to access these resources
Student Resources are available for preview only until you sign in to your Zondervan Academic student account!
Sign In
or
Sign Up
for a free account. Students get full access to these resources and more.
Expand
Preview
Product Details

Page Count:

1,296

Format:

Hardcover, Printed

ISBN:

9780310286707

Release:

January 3, 1995
Other Popular Titles to Consider
Experience Enhanced Editions
For Instructors
It takes less than 10 minutes to request and explore the FREE trial of this book in Enhanced Editions. Get started now.
Start Free Trial
For Students
Discover more about the content and features in Enhanced Editions that help you learn faster and remember longer.
Access Enhanced Edition