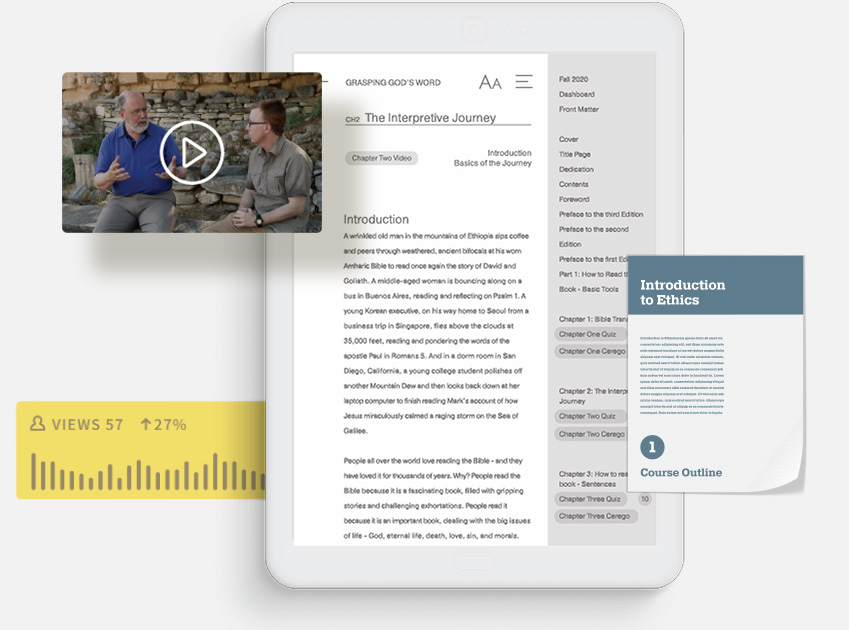 Expand
Description
The study of Paul and his letters can be exciting, challenging, and life-changing, but only if it is done well and only if students achieve more than a basic familiarity with the subject. This is exactly what Pauline experts Bruce W. Longenecker and Todd D. Still accomplish with their new textbook aimed at college and seminary level courses on Paul and his writings.
Longenecker and Still bring decades of study and expertise to Thinking through Paul, challenging readers to delve deeply into Paul's writings and wrestle with his richly-layered and dynamic theological discourse.
Seeking to situate their study of the Apostle in proper perspective, Longenecker and Still first look at Paul's life before and after his encounter with the risen Christ en route to Damascus, then examine each of Paul's letters individually, and finally synthesize the Pauline writings to highlight the main strands of Paul's theologizing—all the while keeping in mind the particular context of first-century Christianity. Filled with images, maps, charts, and questions for further study and discussion, Thinking through Paul is both engaging and easy-to-follow, making it the perfect choice for classrooms and for interested readers.
About the Authors
Bruce W. Longenecker (PhD, University of Durham, England) is professor of religion and W. W. Melton Chair at Baylor University in Waco, Texas. He has previously taught at the University of St. Andrews, Cambridge University, and the University of Durham. He is the author of several books, including Remember the Poor: Paul, Poverty, and the Greco-Roman World, and The Lost Letters of Pergamum: A Story from the New Testament World.
Todd D. Still (Ph. D., University of Glasgow, Scotland) serves as the William M. Hinson Professor of Christian Scriptures (New Testament and Greek) at the George W. Truett Theological Seminary of Baylor University in Waco, Texas. In addition to having written Colossians for the revised edition of The Expositor's Bible Commentary, Dr. Still is the author of Conflict at Thessalonica as well as Philippians & Philemon. He is also the (co-) editor of several volumes (including Jesus and Paul Reconnected, After the First Urban Christians, and Tertullian and Paul) and has published articles in such scholarly journals as New Testament Studies, Journal of Biblical Literature, and Catholic Biblical Quarterly.
Endorsements
Thinking through Paul is a winning combination of richly illustrated, introductory material on Paul and the Pauline corpus (chaps. 1–10) and discussion of Paul's "theological discourse" (chaps. 11–13). Many up-to-date and judicious discussions of debated issues in Pauline studies are included, studded with illuminating primary and secondary source quotations. The authors stress Paul's "apocalyptic narrative" as providing coherence to the letters, as well as reconstruct other metanarratives---about the covenant people Israel and the Roman imperial order---that help contextualize Paul within Jewish and Roman milieux. Students will be well-served by this up-to-date, expert, and user-friendly textbook, which aims not only to inform but also to foster a christocentric ethos. -- Judith Gundry, Yale Divinity School
For students of the apostle Paul, this is a valuable textbook on several accounts. Not only are Longenecker and Still notable Pauline scholars, but they introduce the life and letters of Paul in a clear manner and with fairness when addressing debated issues. Perhaps most importantly---something that sets this introduction apart from many others---the authors help us to appreciate Paul's rich and complex thought and challenge us to wrestle with his theology for ourselves. Longenecker and Still succeed precisely in their aim, to facilitate "thinking through Paul." The job is never done; it has only begun, but this is a wise place to begin. I look forward to introducing this book to my students! -- Nijay K. Gupta, George Fox Evangelical Seminary
Written by leading Pauline scholars, Thinking through Paul is a reliable and accessible guide both to recent scholarship on the apostle and to the content and context of each of his letters. This is a fine (and richly illustrated) textbook whose use need hardly be confined to the classroom! -- Stephen Westerholm, McMaster University
Introducing the apostle Paul is more than a challenge today: not only do historical problems abound but theological debates about the heart of Paul's thinking have become a storm center. Somehow, Longenecker and Still have successfully cleared the ground for students to find Paul. Here is a beautifully produced and efficiently organized introduction to Paul. -- Scot McKnight, Northern Seminary
Sign in to access these resources
Instructor Resources are available for preview only until you sign in to your Zondervan Academic instructor account!
Sign In
or
Sign Up
for a free account. Approved instructors will get full access to these resources and more.
Sign in to access these resources
Student Resources are available for preview only until you sign in to your Zondervan Academic student account!
Sign In
or
Sign Up
for a free account. Students get full access to these resources and more.
Expand
Product Details

Page Count:

416

Format:

Hardcover, Printed

ISBN:

9780310330868

Release:

September 9, 2014
Other Popular Titles to Consider
Experience Enhanced Editions
For Instructors
It takes less than 10 minutes to request and explore the FREE trial of this book in Enhanced Editions. Get started now.
Start Free Trial
For Students
Discover more about the content and features in Enhanced Editions that help you learn faster and remember longer.
Access Enhanced Edition